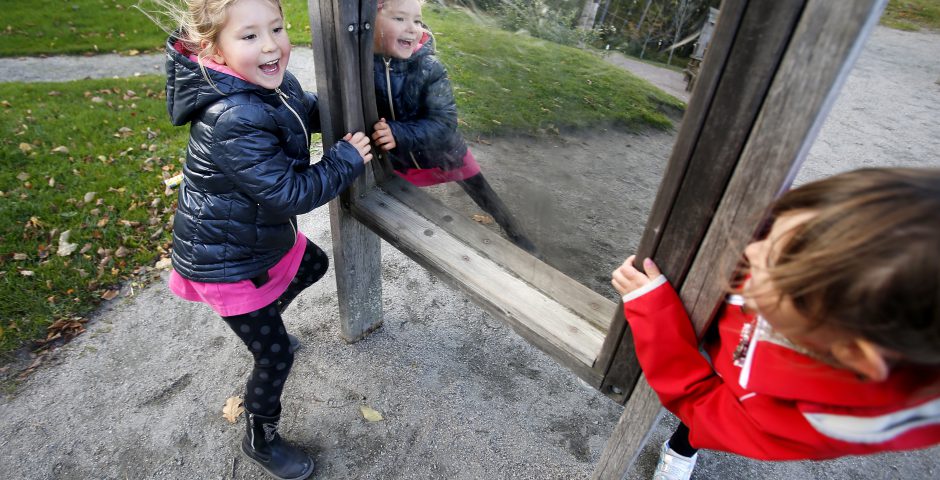 Playgrounds
I Mariebergsskogen finns flera roliga lekplatser. Kom hit och klättra, hoppa, spring och lek allt vad ni orkar!
Lekpark
På vår övre lekplats hittar du bland annat linabana, småhus och gungor. Den blå gungan är speciellt anpassad för dig som är rörelsehindrad. Här finns också ett tåg som du kan fortsätta att leka i när tågturen med rundturståget Conrad Höök är över för denna gång.
Lekträdgården
Lekträdgården i Mariebergsskogen är unik i sitt slag. Redan på entrétorget märker du inriktningen mot värmländsk historia, kultur och natur. Här rinner en liten, liten remsa av Klarälven med glänsande slomfisk på botten. Och borta i Lekskogen inbjuder bland annat Hybelejens kvarn – utrustad med klättertorn, rutschkanor och hängbroar – till fysisk lek. Vi hoppas att alla åldrar ska känna sig välkomna på upptäcksfärd. I vår lekträdgård skapas ständigt nya upplevelser genom din och de andra besökarnas aktivitet och fantasi. Lekträdgården består av musikträdgården, litteraturträdgården, konstträdgården och lekskogen.
Lekträdgården är ritad av arkitekt Helena Bjarnegård vid White Arkitekter och invigdes i sin helhet den 27 maj 2008.
Mariebergsskogen has several fun and exciting playgrounds. Come and climb, jump, run and play as much as you want!
Play Park
Our upper playground includes a rope slide, playhouses and swings. The blue swing is specially adapted for those with a disability. There is also a train that you can continue playing on once the Conrad Höök train has completed its tour.
Play Garden
In the Play Garden you can whisper secrets along the speaking tube to your friend far away, play in the long tubes and build sculptures in sand. The play forest has an obstacle course and Hybelejen mill with its slide. You can also run around the stone labyrinth and see if you can stop laughing when you see yourself reflected in the crazy mirrors.
Climb and play
Have you seen the chicken, the cat, the little horse and the green frogs – our concrete sculptures that love to be climbed on by children?