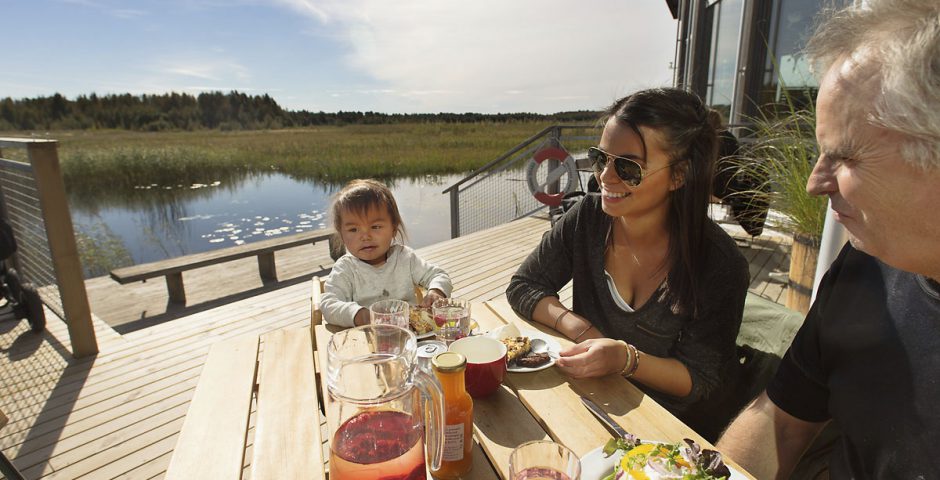 Eat
Mariebergsskogen offers several tempting options when you feel in need of food or refreshments. And if you have your own food, simply sit down in a lovely spot in the park and enjoy a picnic.
Café in Naturum Värmland
The café serves a soup of the day with bread and toppings, pancakes for the children and delicious sandwiches. If you fancy a snack, there is plenty to choose from and it is all home-made. You decide whether to sit out on the jetty or indoors – either way it feels like being in the middle of the countryside. Open all year round. Click here to read more about the café.
Spikgården waffle café
Our early 19th-century log cabin is the place to relax in an old-world setting. The staff, in their historic costumes, serve freshly-made waffles with jam and cream, hot dogs, buns, ice cream, coffee and other drinks. Open May-September.
Kiosk
The kiosk serves hot dogs, coffee, sweets, cooling drinks and ice cream. We also sell Fairtrade coffee, milk/sugar-free ice cream and soya hot dogs. Open May-September and December-February.
Barbecue sites & picnics
There are various barbecue sites around the park – at Acksjöns Kapell, Spikgården, Gammelgården and the beach – and if you contact us in advance we can put out some firewood. If you have a disposable barbecue, there are special bins to put them in once they have stopped burning.
Under cover
If you need a little shelter from the rain, there is a summerhouse in the upper playground, three summerhouses in the Play Garden and a few umbrellas outside Holken where you can avoid the worst showers.
Allergies etc
The kiosk sells Fairtrade coffee, milk/sugar-free ice cream and soya hot dogs. The café in Naturum Värmland serves an allergy-free range of cakes that contain no egg, gluten, sugar, milk or lactose. Ask our staff for more information!