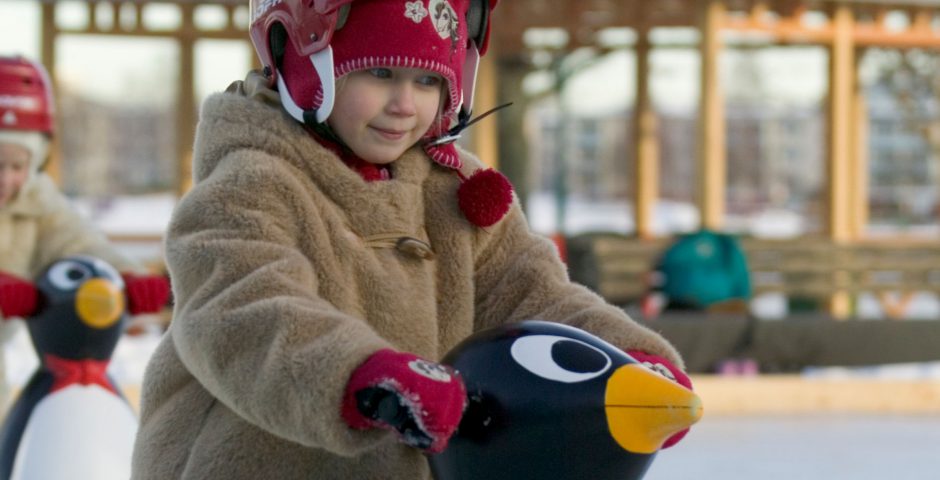 Skridskobana
Always open to the public
In the middle of our Play Garden stands our round, artificially frozen ice rink, where you can skate in time to the music. The rink is open exclusively for public skating and as darkness falls, the warm atmosphere is enhanced with attractive lighting. If you don't fancy putting on your skates, you can simply enjoy the music, the beautiful Christmas tree and some great people-watching.
Skate hire
If you don't have your own skates, they can be hired from the kiosk near the rink. We hire out children's, women's and men's skates in sizes 24-47. You will need to show some ID when you hire your skates.
Borrow Pingu for support
Do you need a little extra support on the ice? Skate for a while with Pingu, who can be borrowed for free.
Important rules for everyone
Everyone on the rink wears skates, but nobody has an ice hockey stick. All children wear a helmet (available from the kiosk).
Long-distance skating in the bay
In the winter when the bay freezes over, many people make Mariebergsskogen their starting point for some long-distance skating. A course is prepared on the ice in Mariebergsviken through a collaboration between KBAB, the Recreation Administration of Karlstad Municipality, Solstaskäret LK and Mariebergsskogen AB. Solstaskäret LK publishes up-to-date information on the course, read more at www.solstaskaret.se/mariebergsviken